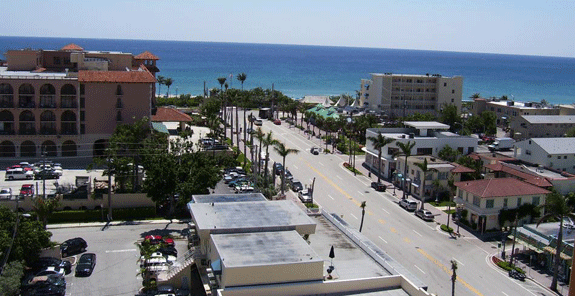 The Delray Beach Asphalt Paving Leader
Our paving company has been performing a lot of quality work for Delray Beach recently. One of the 'hottest' new destinations in the USA due in large part to sidewalks strewn new restaurants along that lively and colorful strip of asphalt pavement called Atlantic Avenue Delray Beach is a jewel of Palm Beach County. Delray Beach has been named an All-America City twice and was recently also named 'Most Fun Small Town in America by the Travel Channel' USA Today Newspaper and Rand and McNally. There are over 10,000 businesses registered in Delray Beach with the number climbing daily and over 70,000 full time residents in Delray Beach with that number growing quickly as well.
Delray Growth Fuels Need For Paving Partner
With all of this explosive new growth comes the need for quality parking lots, sidewalks, driveways and other concrete and asphalt projects such as patching, striping and maintenance. With all of the new hotels, shops, restaurants, comes the need for high quality asphalt paving and concrete sidewalks. New home sales are also spiking, with many new communities breaking ground. Developers around Delray Beach are turning to Trinity Asphalt Paving because they know we understand the rate of rapid growth in the area and the importance of meeting deadlines.
Homeowners also trust Trinity and know about our reputation for quality work and professionalism. As highly regarded, licensed and insured asphalt and concrete maintenance company with many happy clients in Palm Beach County, we would like the chance to help you with your project. Call us at (561) 889-2615 or click for a free concrete or asphalt quote on your Delray Beach driveway, concrete, parking lot or other asphalt paving project!