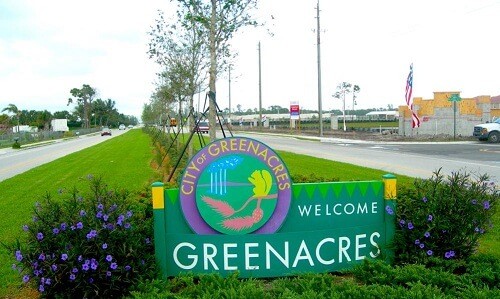 Greenacres Driveway Paving and Parking Lot Asphalt Paving Company
Greenacres has a lot to offer, from having a 'Tree City USA" designation and having a somewhat rural feeling to the cultural diversity and lower cost of living ( average home price in Greenacres is $170,000 ) to the terrific location near all the West Palm Beach shopping, entertainment and nightlife.
Greenacres over 35,000 residents live in good company in this close knit community in single family homes, condos, villas, townhomes and rental apartments. All of these types of houses have one thing in common…they all have either driveways or parking lots!
Who can you count on to maintain your driveway and make your parking lot look new again? Our little company, that's who! The asphalt paving and concrete professionals at Trinity Asphalt! From Waterway Village to Island Shores, 10th Ave. to Jog Road, we are here to get the work done affordably and on time!
Based in nearby West Palm Beach, Trinity's team of licensed and insured paving professionals is ready to furnish you with a FREE QUOTE on your driveway and parking lot needs.
From paving a parking lot for a shopping center on Jog Road to resurfacing a driveway in Arbor Oaks, we're ready to do the job properly the first time!
There's a reason Greenacres has been named one of the "100 Best Communities for Young People" in the US by America's Promise-The Alliance for Youth, and there's a reason local residents call Trinity Asphalt Paving for their parking lot and driveway paving and repair needs…high quality work
gets your recognized!
Call or click here for a  FREE QUOTE on your project! From Haverhill Road to Lake Worth Rd., our company is here to serve you and make you smile when you hear how affordable our work is and how high quality our results are!