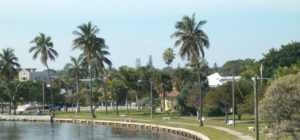 Lake Worth's Asphalt Pavement Company
Trinity Asphalt Paving offers top quality residential and commercial asphalt paving and concrete installations in the Lake Worth, Florida area and throughout South Florida. We pride ourselves in exceeding our customers' expectations in every driveway, sidewalk and parking lot paving or seal coating project we complete
Licensed, bonded and insured, Trinity Asphalt Paving is poised to be Lake Worth's paving partner as it grows into the future. With its lovely historic downtown area near Lake and Lucerne Avenues, Lake Worth boasts a culturally diverse population with a low cost of living and low unemployment rate. There is a lot of growth here and our professional concrete and asphalt team is here to help lay the groundwork!
Trinity Asphalt Paving is ready to serve Lake Worth residents by installing new driveways, pouring concrete sidewalks and driveways for homes or businesses, and repairing and sealing asphalt driveways. Residents who seal coat their asphalt driveway annually protect their investment against wear and weather and can significantly extend the life of their driveway. Installing a concrete driveway is another investment that home owners may select, and we're ready to provide dependable services to help.
Besides serving residents, Trinity Asphalt Paving also brings expertise to Lake Worth's businesses as well. Whether it be repairing potholes before the annual Street Painting Festival and Finlandia Week begins or seal coating and maintaining parking lots for local businesses like the Lake Worth Playhouse, Trinity Asphalt Paving is ready to provide top-quality services at cost effective prices.
Our wide range of parking lot services can meet any business' needs. Trinity Asphalt Paving can provide plans, manage drainage issues and mark elevations and boundaries for new lots. By cleaning existing parking lots, treating unwanted vegetation growth and re-grading and filling problem areas, our company can successfully resurface an existing lot. Trinity Asphalt Paving can also install or repair curbing, landscape islands, bumpers and car-stops. Finally, our company will re-stripe all parking lot markings with a high-quality paint that is guaranteed for 10 years and install necessary signage.
Whether you are a Lake Worth resident looking for a new driveway or driveway repair or a new business owner requiring a new parking lot, seal coating or lot repairs, call us at (561) 889-2615 or click here for a free paving quote