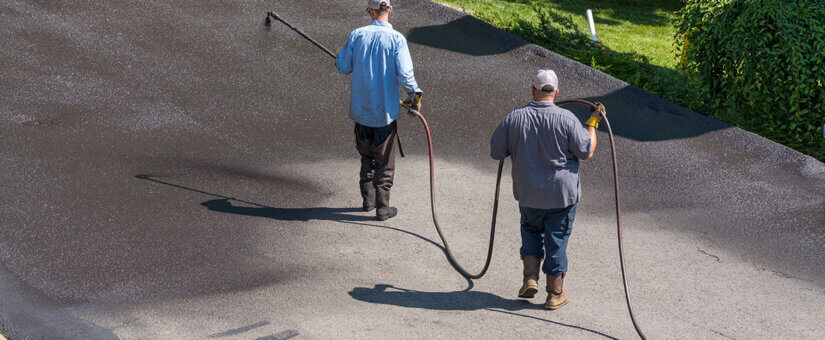 Sealcoating will enhance the appearance of your driveway and increase property value. An annual application of sealcoat will protect your driveway from the elements and regular traffic. It fills the voids and cracks in your driveway, protecting the asphalt from eroding and damage. Sealcoating will extend the life of your asphalt driveway.
Trinity Asphalt and Paving serves the homeowners of Palm Beach and Broward counties.
We offer cost-saving value for your driveway and installation is both fast and economic. Keep reading to see why we recommend sealcoating your asphalt driveways in South Florida.
What is Sealcoat Made From?.
Sealcoat is a bituminous liquid mixture. This means the concentrated mixture contains relatively soft coal. This type of coal is usually formed from lignite, a naturally compressed peat. This soft coal is heated to give it a tar-like viscosity which allows it to be spread for easy application.
Are There Different Kinds Of Sealcoating?
Yes, there are two basic forms of sealcoating used for application on top of asphalt driveways:
Coal tar sealers are an application that demands more work to apply. It has the added benefit of fuel and chemical spill protection. This is the product most commonly used by professional crews. Asphalt emulsion sealers are easier to apply however are less resistant to chemical spills. If you like to learn a few more common paving terms, here is a list of the terms used in paving.
How Does The Sealcoating Process Work?
Sealcoating is a process. After we clean and patch your asphalt driveway, we coat the entire surface with the liquid sealant. Once it dries, the sealcoat forms an impenetrable barrier. It fills the small cracks and fissures on the surface of the asphalt. This barrier keeps away sunlight, wind, water, fuel, and most chemicals. These elements are known to harden unprotected asphalt causing it to degrade, crack, and crumble.
Is There Optimal Weather For Applying Sealcoat?
Sealcoating is best applied when it is dry. There should be a 24 hour period with no rain and a temperature at least above 50 degrees. Trinity Asphalt offers quick installation and great pricing for your driveway's sealcoating application.
What Else Is Added To Sealcoating?
The only other product added to sealcoat is silica. It helps the liquid dry faster, makes it more durable as well as slip-resistant.
How Long Until I Can Park On My Driveway After Sealcoating?
You should wait 24 hours after we apply your sealcoating before you drive or park on your newly coated surface.
What Is The Difference Between Sealcoating And Paving?
Sealcoating will repair minor cracks and defects. Its primary function is to protect your asphalt driveway from the elements. Asphalt paving repairs and replaces aging or damaged asphalt driveways.
How Do I Know If I Should Get Sealcoating Or Need My Driveway Asphalt Replaced?
Take a hard look at your driveway. If you see a pattern of cracking covering the surface of your driveway, it may need to be replaced. If you can stick a butter knife in most of the cracks, you probably need your driveway replaced.
How Often Should Sealcoating Be Applied To My Driveway?
Sealcoating will protect your asphalt driveway for about a year. Even with the cost of an annual application, sealcoating will save you thousands in the long run from repair to your asphalt driveway.
Contact Us Today
Let Trinity Asphalt Paving stop by and take a look to offer you a professional free consultation. We are a family-owned business located in West Palm Beach. We have satisfied customers From Davie to Palm Beach Gardens and are especially proud of our 5-Star Google rating! You can give us a call at (561) 889-2615 or reach us here: https://trinityasphaltpaving.com/contact-us/.
Posted by Trinity Asphalt and Paving
On April 14, 2021
0 Comments