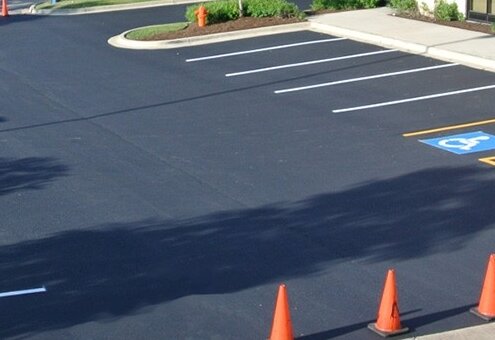 Is your parking lot or driveway surface showing changes such as a grayish color, small cracks, or potholes? If so, your asphalt surface may be starting to degrade. Asphalt is the primary material used in many of South Florida's parking lots and driveways due to its flexibility, adhesive, and waterproofing properties. An asphalt surface should last up to 25 years, but unfortunately, a combination of Florida's tropical sun, frequent heavy rainfall, foot and vehicle traffic, may cause it to degrade. Patching, repairing, or replacing asphalt and then applying a protective seal coating along with yearly asphalt maintenance, will protect and prevent your parking lot or driveway from further damages. 
7 Ways to Tell if Your Asphalt is showing signs of wear:
1. Crocodile cracking or alligator cracks: This common type of distress found in asphalt results in interconnected cracks that look like alligator skin. This can be caused by poor drainage or overloading.
2. Raveling: This typical asphalt issue occurs when there is poor adhesion between the asphalt and aggregate surface. This may also be due to a poor-quality mixture initially used.
3. Swelling: This is caused by soil reacting to temperature and moisture fluctuations. When soil is moist, the asphalt expands; when it is dry, it shrinks.
4. Block cracking: This may appear as giant rectangles or squares on your asphalt surface. Insufficient moisture and heat may contribute to this issue.
5. Potholes: The expansion and contraction of water after entering the ground cause a weak spot to form in the asphalt. The weight of cars and trucks that pass over this weak spot result in the formation of a pothole.
6. Edge Cracking: When cracks are found on the edge of the asphalt surface, they are called longitudinal cracks. These cracks are often caused by nearby trees or shrubs or insufficient drainage.
7. Slippage cracking: There are a number of factors that can result in slippage cracks. Mostly this is caused by the poor bond of the materials involved. Water or dirt between layers can cause a poor bond between the asphalt surface and the material beneath it. 
Get in Touch Today
When your asphalt begins to deteriorate, you need to call on a licensed experienced Boca Raton asphalt paving company to patch, repair, or replace the asphalt. Trinity Asphalt Paving is a 5-star rated asphalt paving company serving  all of South Florida. Our expert installers are the best in the business. We have addressed the concrete and asphalt paving needs of homeowners and businesses from Boca Raton to Fort Lauderdale and beyond for many years. We guarantee that we will exceed your expectations.  Trinity Asphalt Paving is your go-to company when you need affordable, quality asphalt paving, seal coating, patching, and pothole repair for driveways, parking lots, sidewalks, or walkways at your Boca Raton or South Florida home or business. Call Trinity Asphalt Paving, Inc. for a free quote today, or visit us at our main company office in Loxahatchee at (561) 889-2615.
Posted by Trinity Asphalt and Paving
On January 29, 2021
0 Comments