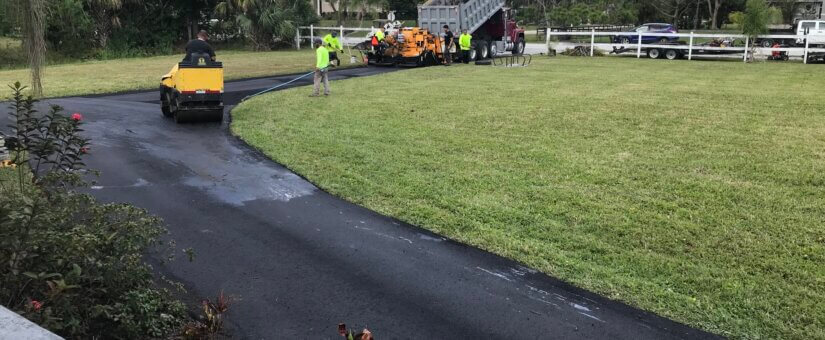 When it comes to your front yard, your driveway is probably the last thing you think about. Yet, it's important to keep it in good condition to ensure longevity and increase curb appeal. This means getting cracks, potholes, and other forms of wear tear treated with professional driveway patching in South Florida. Most people only think about their driveway when there is a big issue that needs to be solved, but you should routinely maintain and repair it to ensure safety and efficiency. Like any appliance in your home, years of neglect can lead to irreparable damage and costly replacements.
When is it time to repair your driveway and what are the signs that you need it replaced? Read on where we share these answers and more.
Longevity Of A Driveway
The longevity of your driveway depends on several factors, including weather. The most important factor, however, is the driveway material. Most driveways are made from either asphalt or concrete. At Trinity Asphalt, we offer repairs and installations for driveways of both these materials.
If you own a concrete driveway and it was properly installed and routinely maintained, it can last up to 30 years. Fortunately, concrete driveways in South Florida last longer than in colder climates because there is no cold weather to crack the material.
If you have an asphalt driveway that was properly installed and routinely maintained, it can last between 15 and 20 years. Again, living in South Florida, your asphalt driveway will last longer because there is no cold weather to crack it.  
Signs To Repair
Small cracks: A crack that is ¼ inch wide may be considered small, but it should be repaired immediately before worsening.
Warping: If the surface of your driveway does not appear to be level, then it is likely warped. Warping can be the result of heavy vehicle use or a compromised base.
Pothole: If you notice a pothole in your driveway, contact Trinity Asphalt immediately. Potholes are easy to fix when caught in time.
Sinkage: Sinkage is likely the result of water building up under the structure. In most cases, the water is coming from your downspouts so, in addition to asphalt repairs, you may also need to have your gutters repaired.
Crumbling: When the edges of your driveway crumble, it is likely because they were too thin. Get in touch with our team and we will apply additional edging.
Driveway repair options
Patching: The quickest and most affordable repair is to have your driveway patched. This is a perfect solution for holes, divots, and small cracks. Patching is a preventative measure that is usually done when a driveway is in good condition, with only a few minor issues. Patching can ensure your driveway (whether concrete or asphalt) lasts longer.
Resurfacing: To increase the structural integrity and curb appeal of your driveway, have it resurfaced. People who want to sell their property, but whose driveway is in disrepair, typically have it patched and resurfaced instead of replaced. This is a practical solution, as replacements can cost thousands of dollars. If you have several cracks and you are deciding whether to resurface or patch your driveway, have it resurfaced if you see cracks over ¼ inch wide. Otherwise, patching should be a sufficient repair.
Signs to replace
Multiple potholes: One pothole can be an easy fix. Multiple potholes have likely affected the foundation and are generally too costly to repair individually.
Alligator cracks: If you see long shallow cracks that span a decent length of the driveway, the contractor may recommend replacing the driveway, especially if it's older.
Multiple issues: If you have multiple issues (cracks, sinkage, potholes, etc.), this is an indication that it's time to have your driveway replaced.
Older than 20 years: Don't bother spending money on repairs. At this point, you should consider replacing your driveway because it will quickly become less efficient.
Final Thoughts
Don't neglect your driveway. When you see a minor issue, we recommend getting it fixed before it turns into a significant problem. If you are in South Florida, you're always in good hands. Our contractors will assist you with all your driveway needs.
Contact Trinity Asphalt Paving, Inc.
Our highly reputable, licensed, and insured asphalt and concrete maintenance company is well established throughout Palm Beach, Broward, and Dade County. For driveway patching in South Florida, installations, or any form of repairs, contact Trinity Asphalt Paving, Inc. Call (561) 889-2615 for a free quote.
Posted by admin
On September 29, 2021
0 Comments