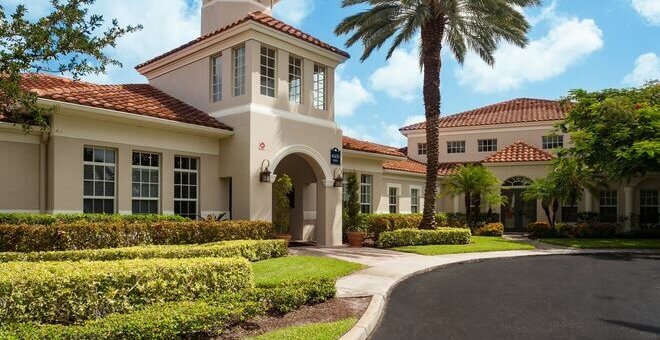 Asphalt driveways can suffer significantly when they're exposed to excessive heat like we endure each summer here in Palm Beach County. The surface softens, which can lead to a deformed appearance over time. But don't despair, there are things you can do and things a professional paving company like our team at Trinity Asphalt in West Palm Beach can do to help keep your driveway looking new.
How Can You Keep Your Driveway's Appearance Smoother, Darker and Void of Cracks?
Tires from all types of vehicles can cause aesthetic damage to soft surfaces such as an overheated driveway, so take extra precautions when it heats up outside.
Seal coating your asphalt driveway is the smart way to ensure it lasts longer. Putting down sealer enables driveways to stay fresher looking and protects them from permanent damage. Seal coating additionally secures the blacktop against water damage and heat oxidization, as it gives a cushion that can withstand the storms, heavy rains and high heat and humidity that can damage asphalt surfaces. Your best game-plan is to apply seal covering to your driveway every couple of years during the springtime.

Avoid parking in the same area of the driveway, and place heavy pieces, such as boats and lawn equipment, elsewhere.
During the summer the hot and humid Palm Beach County weather brings elevated sprinkler use, car washing, and of course torrential rains…all of which can drive water into the surface. If repairs aren't made and the driveway not sealed properly, water can get into the porous openings in near the surface causing greater degradation of the levels beneath the asphalt. The constant switch from hot sun to heavy rain will only exacerbate the problem.
Summer is the best time to perform repairs on pot holes, cracking and other asphalt driveway damage you may have suffered

If all this sounds like a lot of work…it is! But that's ok, you don't want to tackle resurfacing or sealing as a DIY project. Your asphalt driveway is in great hands when you entrust it to the professionals here at Trinity Asphalt Paving in #WestPalmBeach. From repairs to maintenance, we offer a variety of paving rejuvenation services that can transform the appearance of your #driveway surface. If you notice it's suffering from cracks or simply needs some attention, have Palm Beach County's leading asphalt experts resolve your concerns. Visit www.TrinityAsphaltPaving.com for more information or call us at (704) 786-5859.
Posted by admin
On May 13, 2019
0 Comments